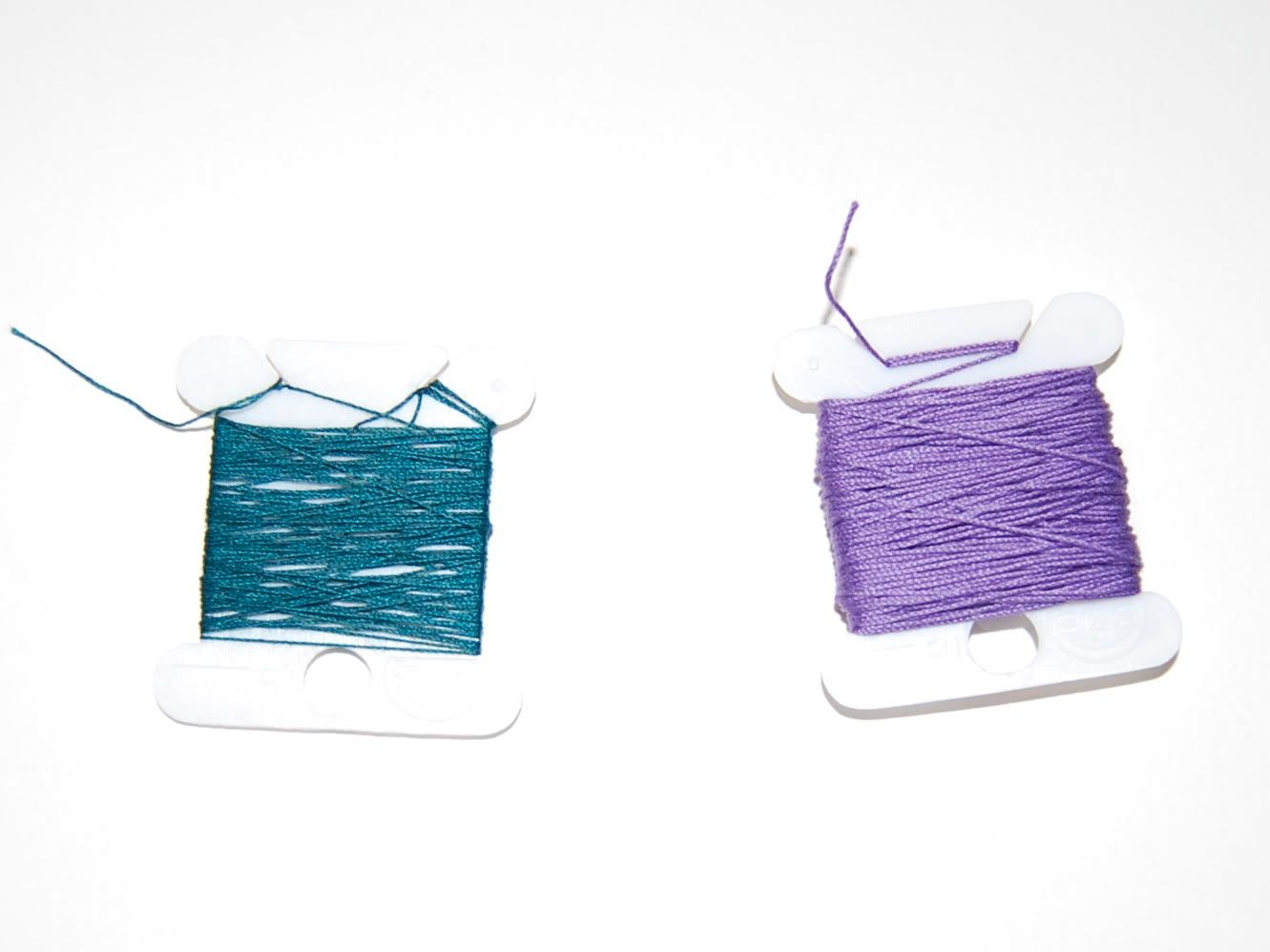 It's been a week! Wow. I meant to post sooner, I just felt like I didn't have much to say.. Lately I have been thread hunting. Between
The Thread Exchange
and shopping I have acquired more thread than I could use! I've received two of my exchanges and sent out all three, the one is coming from Australia so I am expecting it to take a while to get here. This is a Majestic size 80 color 850 from Miranda and Flora size 20 color 217 from Isdihara. I also bought (from ebay) an Oren Bayan size 30 (Turkish size 50) in my favorite color. It tats up quite wonderfully, I quickly whipped up this little flower. I bought at Wal Mart Coats & Clark Metallic Decorative sewing thread. It tats up smaller than a size 80, so I tatted with three strands. Learning very quickly that it was a pain to tat with alone and to pair it with other thread.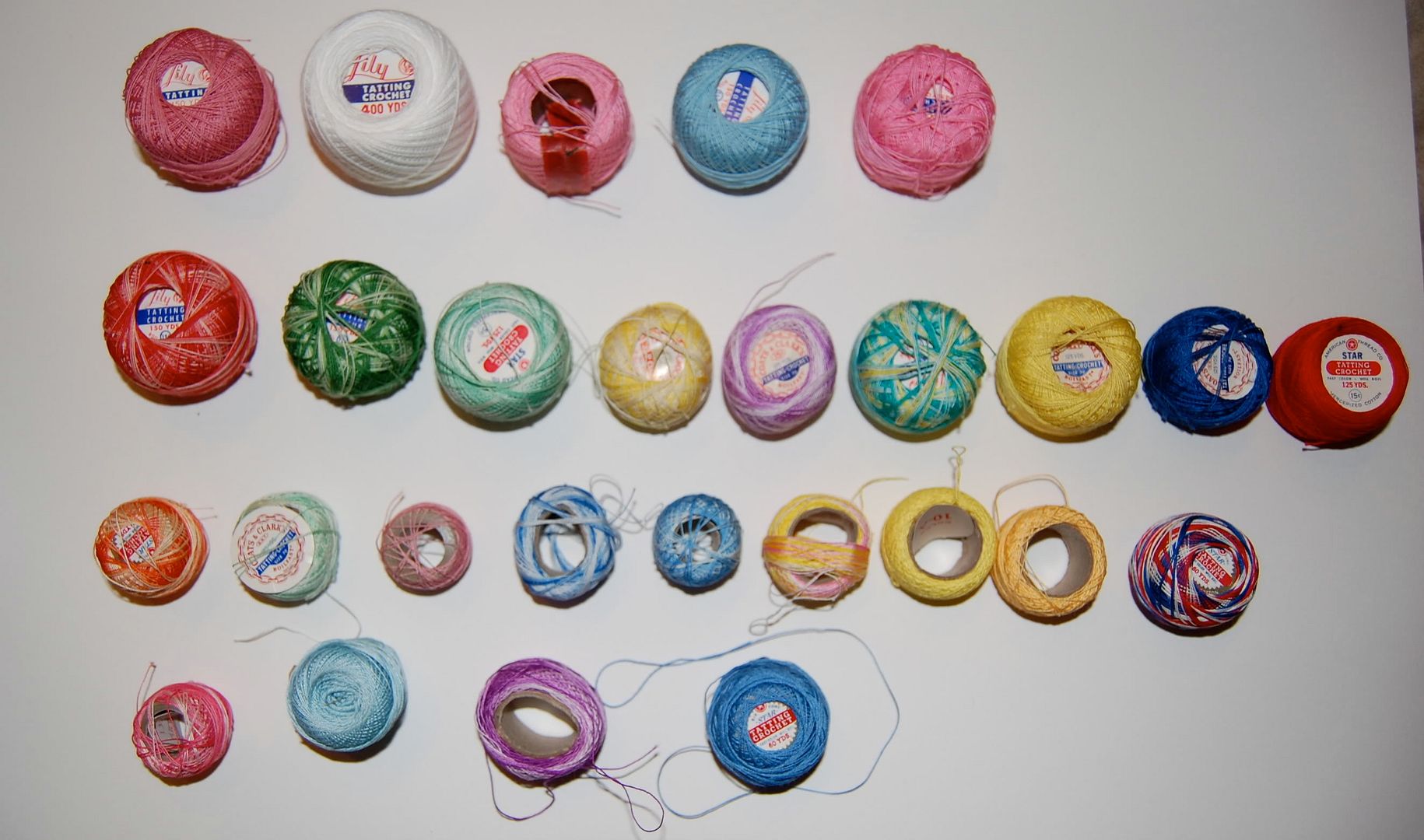 While shopping on ebay I placed a bid on two lots of vintage thread, and I won! Granted, at the time I did not realize they were size 80 thread... So, I'll be working with tiny thread on and off now. The thread smells old.. If that makes sense. I'll probably have them sit out in a room with a fan on and spray a little Febreze in the room. As you can see, there are some duplicates so I'll be posting it on the thread exchange and sharing my newly acquired stash of size 80 threads.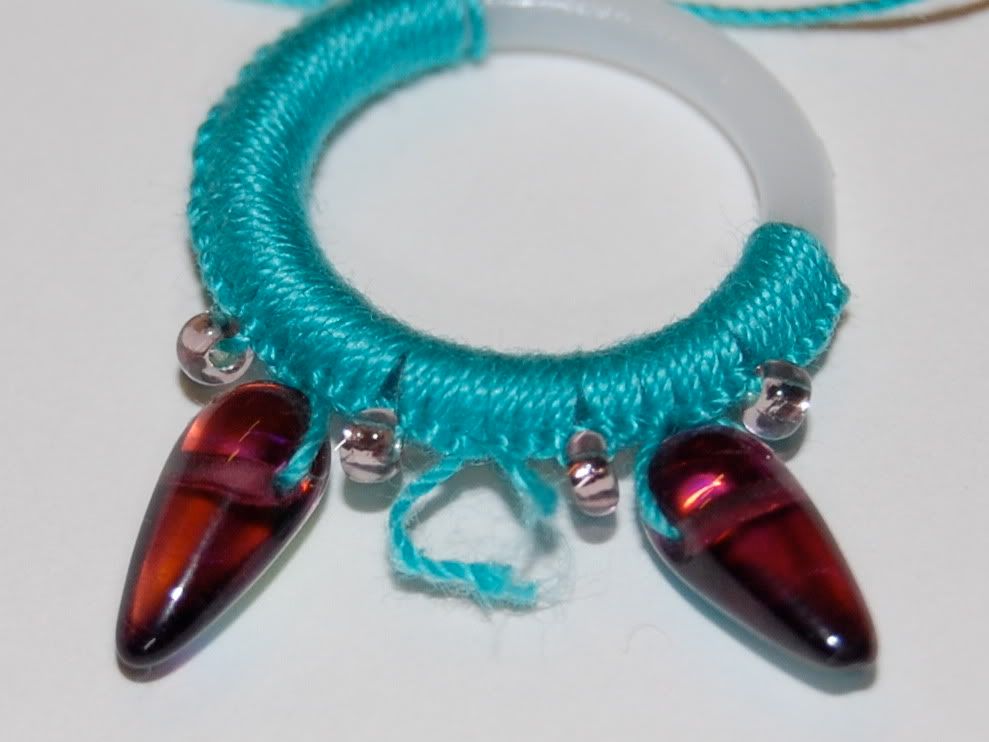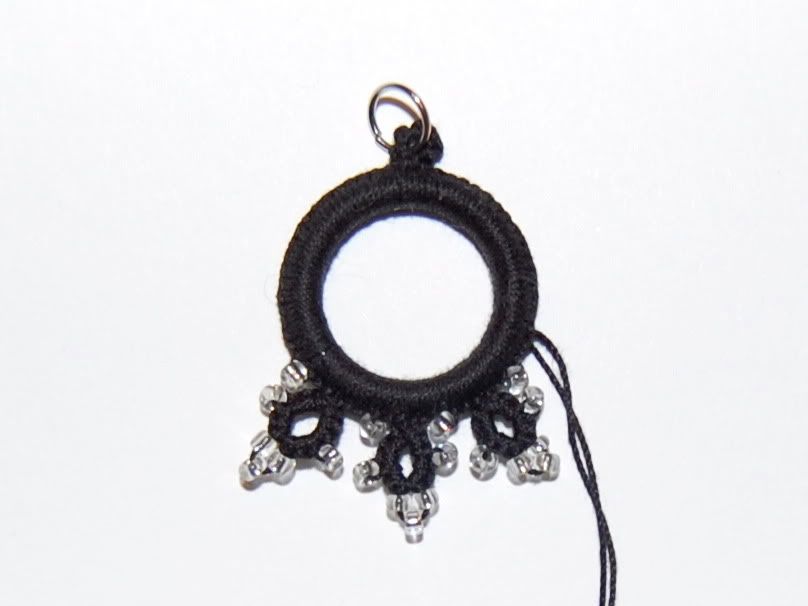 I've been working on tatting around rings again, this one turned out okay.. But I'm not a fan of black, and tatting with it was much harder than I had thought it would be. So I tried another ring with my new Oren Bayan thread, but disaster struck! The thread tore! I'm assuming there was too much stress put on it from the bead. But I'm not sure how else to attach those beads.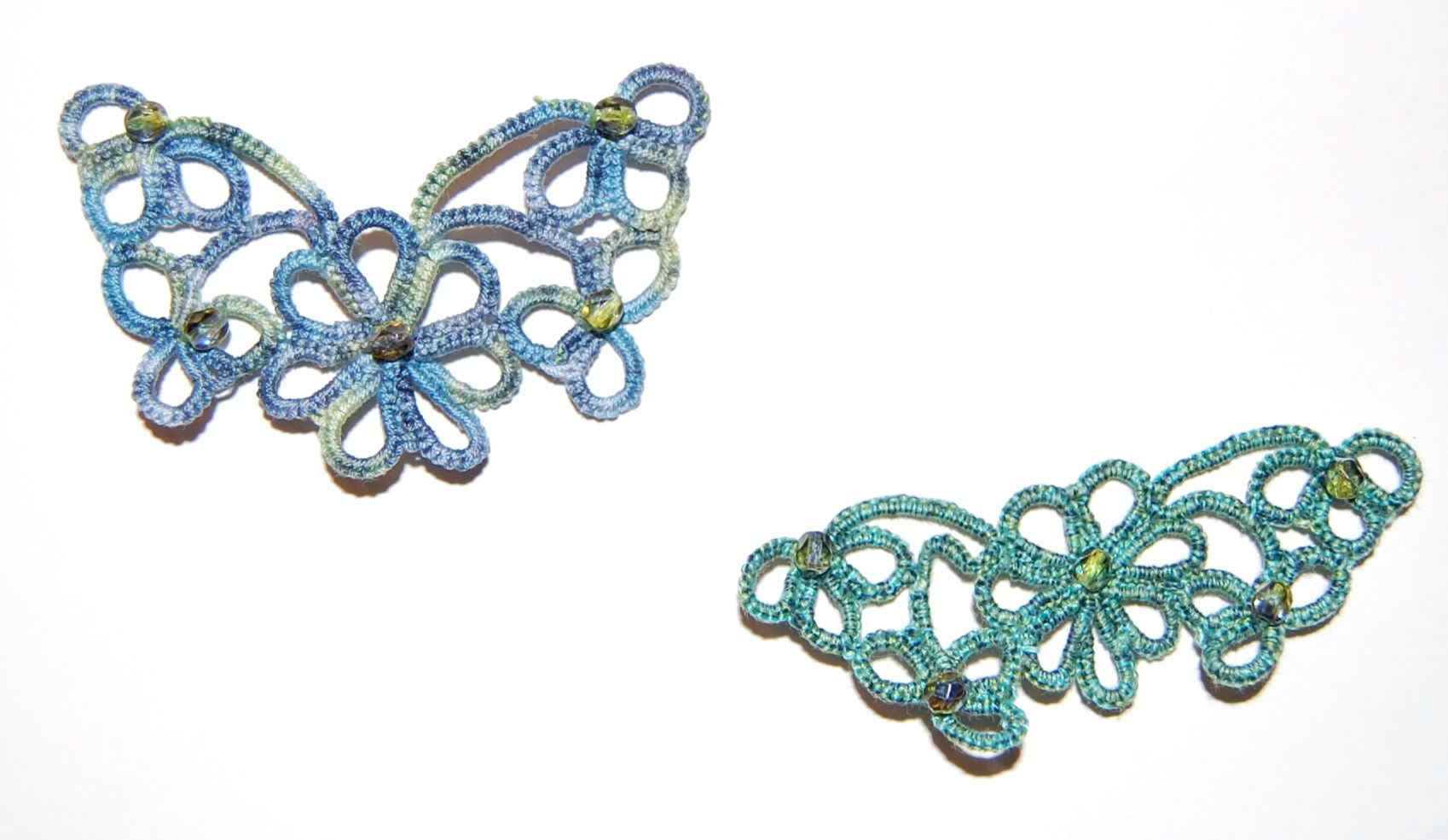 These were tatted up and just recently finished. I will count these as motif #4. The beads I bought a while back and no longer have the label for. The thread in the top (soon to be) pendant is
Flower Child by LadyShuttleMaker
I believe. And the lower thread is a combination of three pieces of embroidery floss. The pattern is from
Kersti
.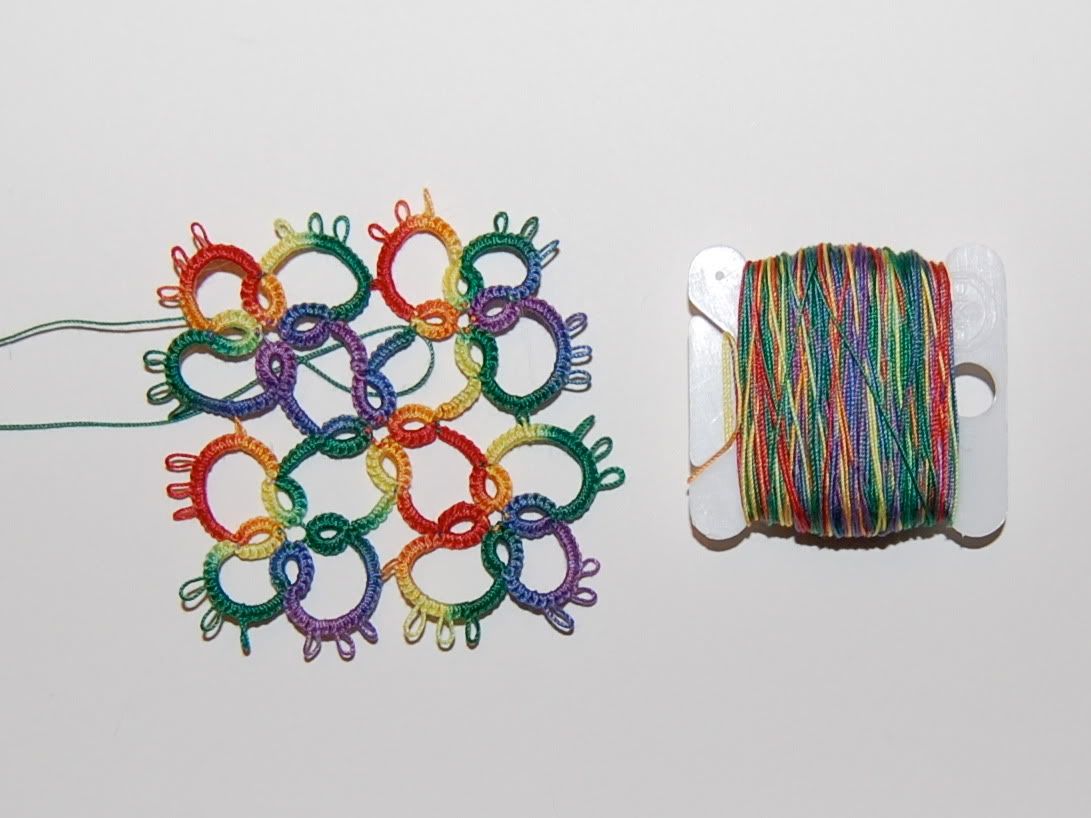 Also while in my uncreative rut made up this piece. I saw many other people doing it, so thought why not! The thread is another new purchase from
hajdesigns31
.
And finally my pride and joy of this post was this item I made that has inspired me. As you will see it has my two exchange threads in it, my new Oren Bayan thread and DMC embroidery floss color 471 (two strands) and one strand of my metallic thread. This is motif #5 for the 25 motif challenge. I just need to figure out a slightly more attractive chain..