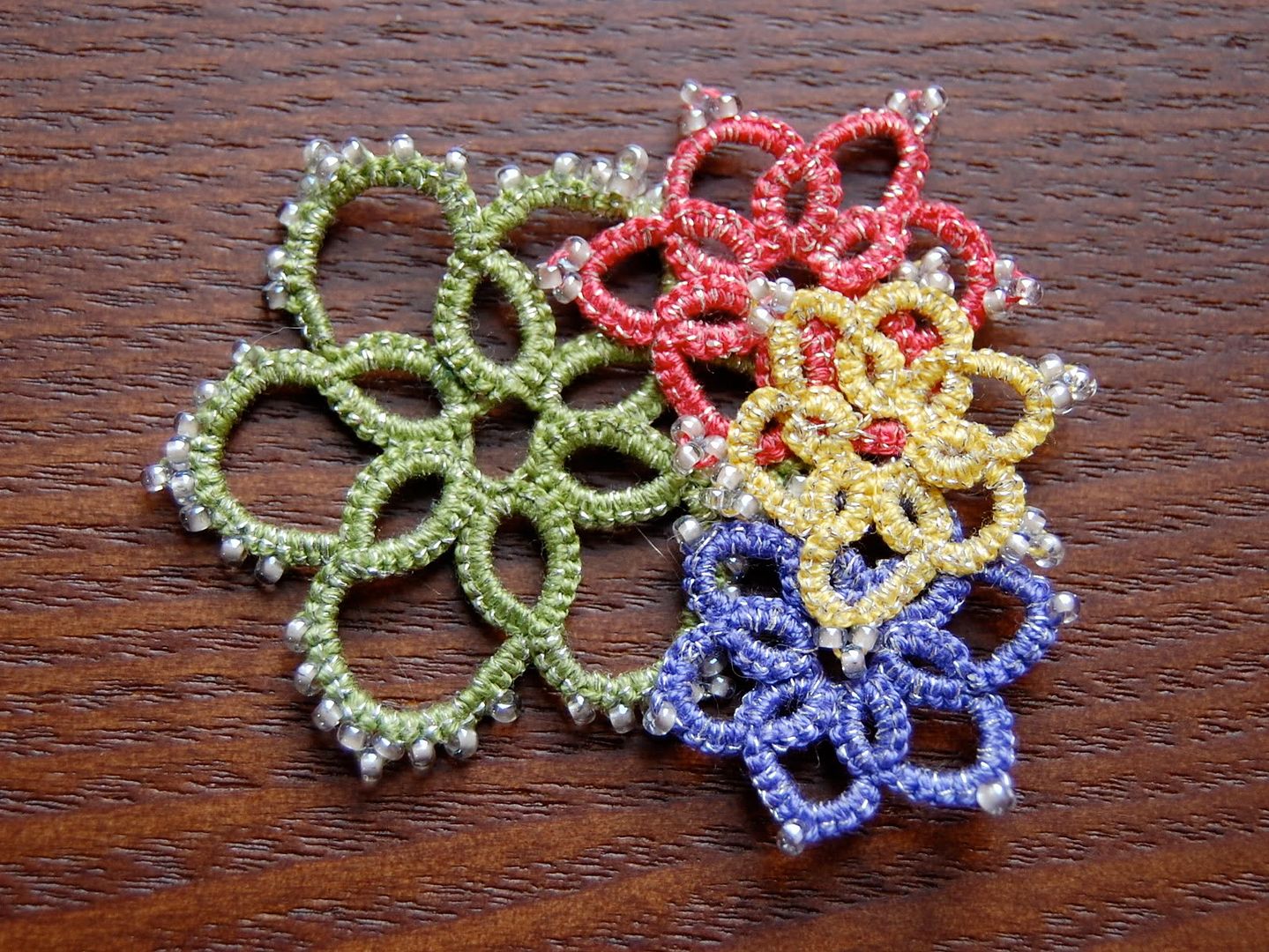 It's been so long since my last post.. I promise I've been tatting! I went to a triangle tatters meeting the end of June. My mom and I got "lost" on the way and found ourselves in this awesome little shop called Shuttles, Needles, and Hooks.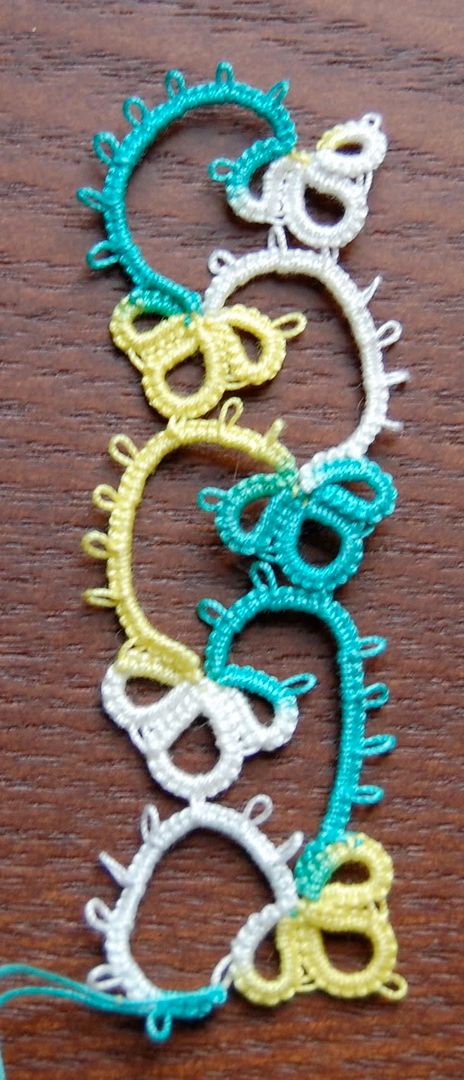 Then the following week we were invited to come tat at this lady's house. It was quite the experience... I'm not too sure if I mean that in a good way or not. I kind of had shuttle tatting shoved at me. I had tried to shuttle tat before but I just couldn't figure it out. I got it this time. I wasn't flipping the stitches before. However, after a week of not putting the shuttles down and not being able to do a simple ring chain ring chain pattern I was at the point of completely giving up. This is the extent of my shuttle tatting. Both patterns are by
Yarnplayer
.
Luckily for me, the guy in my life knocked some sense into me when he went into my bags and found my needles and took the shuttles from me. I've tatted a few snowflakes recently and started working on these floppy flower pendants. They're tatted around a cabone ring. And in between each picot I have a bead. Having to unthread and rethread my needle to put a bead on made this process take a long time. Then, I realized, I could do this with a shuttle easily! I was able to do ring chain chain chain chain chain flowers... So my floppy flower pendants are in process of being shuttle tatted! This is a round motif out of Tatting with Anne Orr. It was taking me a tremendous amount of time to tat and I wasn't in the mood for it so it has been set aside. On the right is another pattern from Tatting with Anne Orr. I was testing out some of my exchange thread.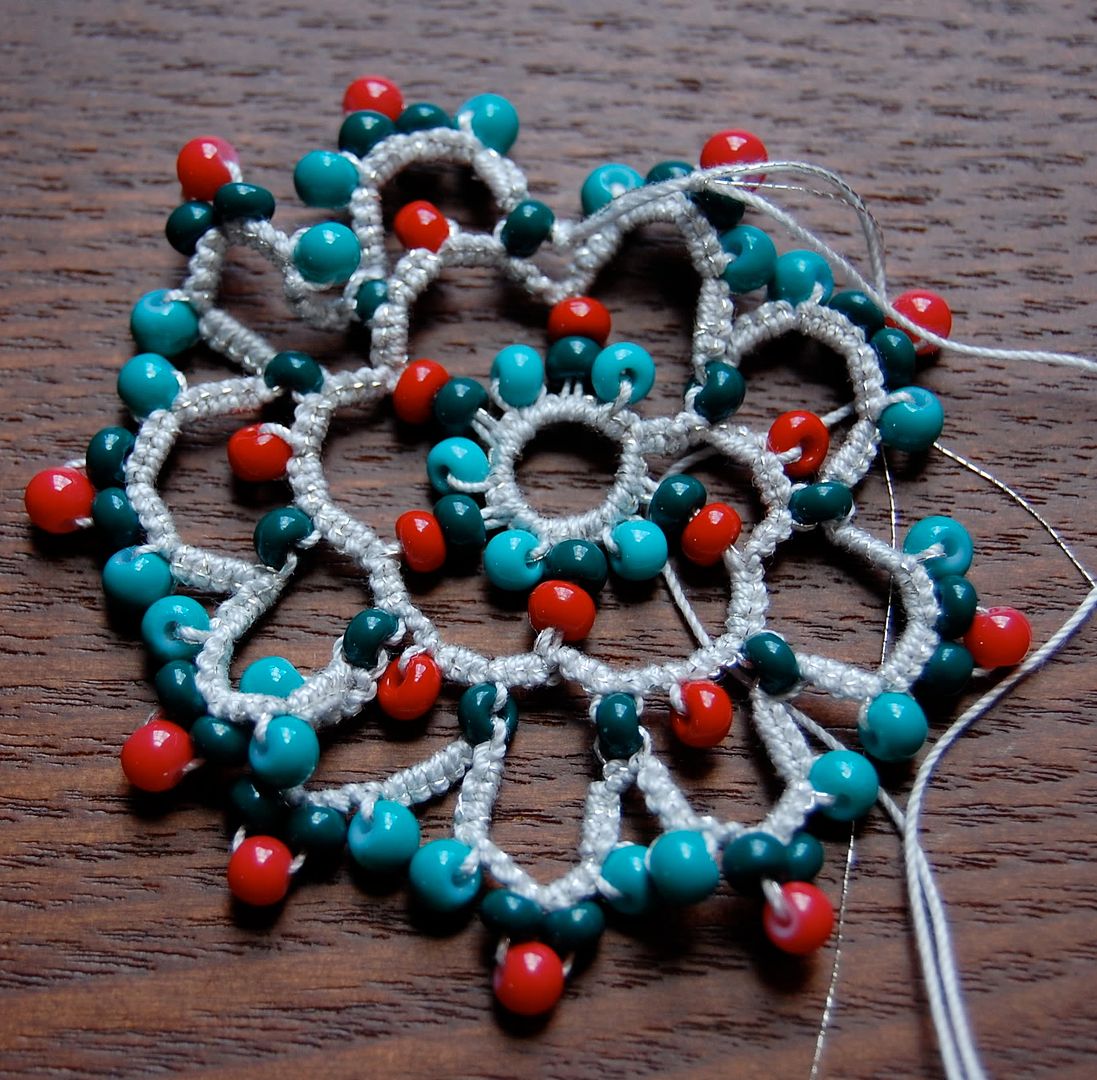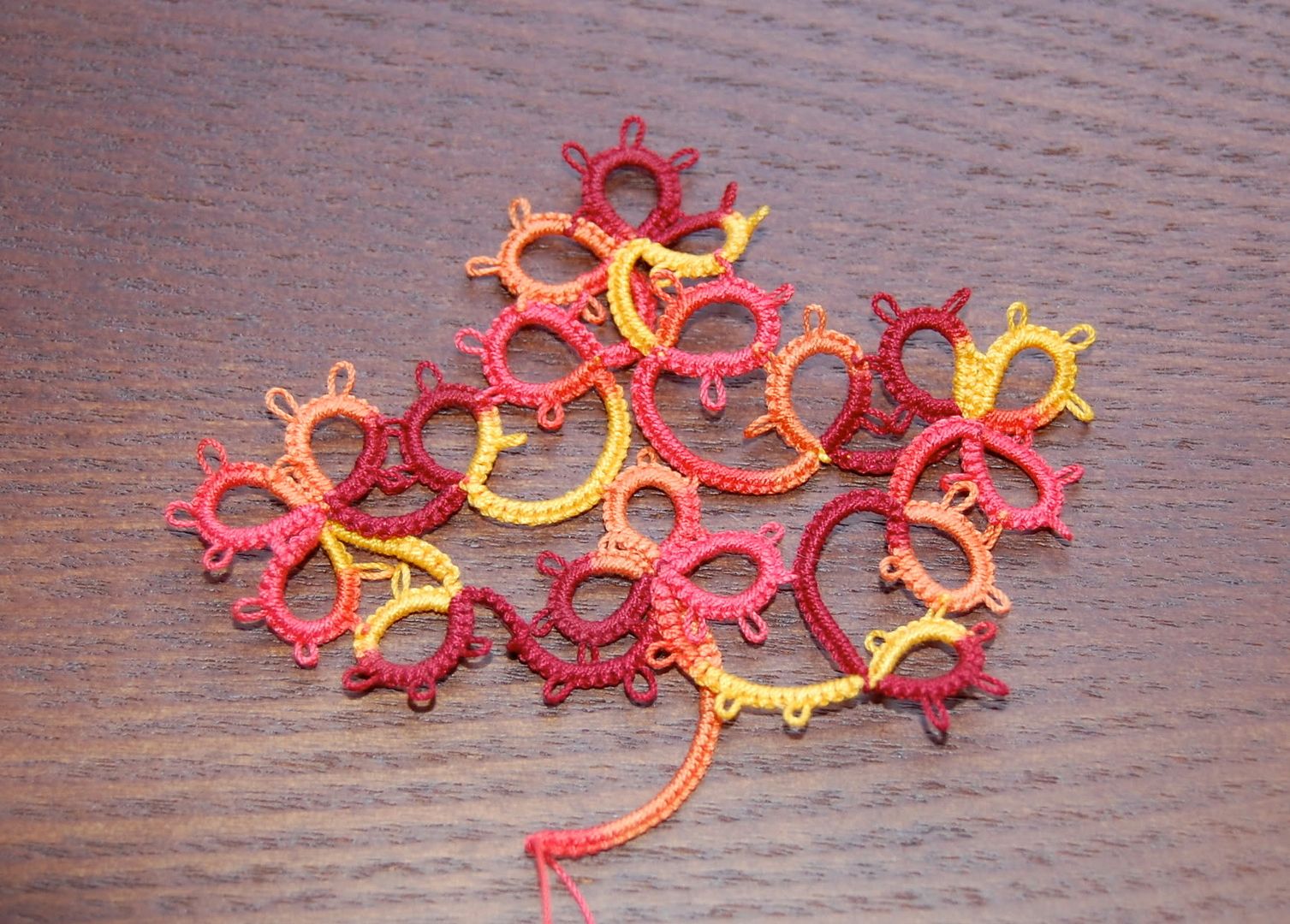 Even though I messed this one up, this is motif #6. This pattern can be found
here
. I accidently added an extra chain and ring to this piece. This was supposed to turn into a pendant but the beads were just too large for the piece, still it has a nice weight to it. Might get turned into a little bag if I could figure out a way. I made another pendant like from my last post. But in attaching the flowers together it now feels a little mushed. I sewed them together. I'm not too sure how to attach them and keep the 3 dimensional look to them.
The Floppy Flower Pendants are best wound CTM (continuous thread method) with 2 shuttles and beads on both shuttles. I might eventually post the pattern, but I'm sure many other people have tatted similar items. I haven't seen any patterns though. After my first try I had to cut the thread so I am covering the ring by shuttle (which was the most time consuming part with needle anyways) and needle tatting the petals.
This was the first attempt at the pendant. This was the second, it's just fine but the picots are too long.
This is motif #7. I was just goofing off and trying to tat around these beads individually but, I saw this starting to happen and I let it. I'm not too sure what I am going to use it for yet. I was thinking a bracelet but I'm afraid that it feels very flimsy and would not want it to break.
While taking all of these photos today, we had a very curious cat that wanted to play with my strings. I present to you Enzi.
Until next time happy tatting!